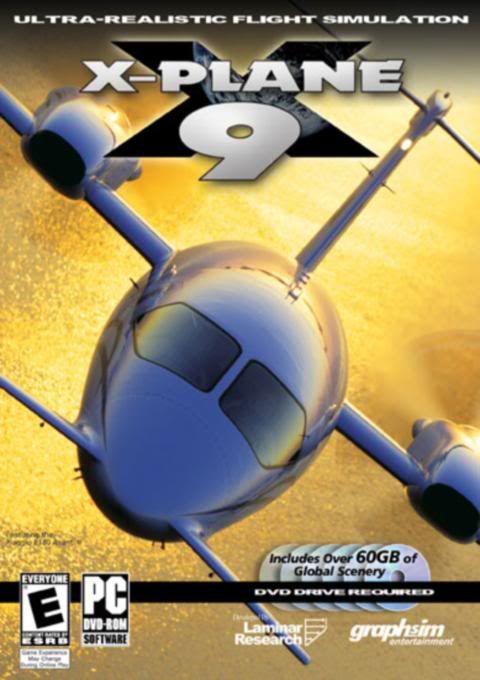 Infomation :
Publisher: Graphsim Entertainment
Developer: Laminar Research
Genre: Jet Sim
Release Date: 04/03/2008
ESRB: EVERYONE
System Requirement:
* A 2 GHz processor
* 1.0 GB RAM (physical memory)
* 64 MB VRAM (video memory on your video card)
* 10 GB of hard drive space
Description
X-Plane is the most comprehensive and powerful flight simulator available for the personal computer. X-Plane simulates anything that flies: from single-engine fixed wing props to multi-engine jets; gliders to dirigibles; helicopters to spacecraft to VTOLs such as the V-22 Osprey and AV8-B Harrier.
X-Plane includes scenery for the entire continental U.S. You can land at any of thousands of airports, as well as test your mettle on aircraft carriers, helipads on building tops, frigates that pitch and roll in the waves, and oil rigs. Weather is variable from clear skies and high visibility to thunderstorms with controllable wind, wind shear, turbulence, and microbursts. Rain, snow and clouds are available for an instrument flying challenge, and thermals are available for the gliders! X-Plane can download real weather data from the internet, allowing you to fly in actual current conditions!
Features
* X-Plane has the most realistic flight model available for personal computers. It comes with subsonic and supersonic flight dynamics, simulating aircraft from the Bell 206 Jet-Ranger helicopter and Cessna 172 light plane to the supersonic SR-71 and Mach-3 XB-70 Valkyrie.
* X-Plane comes with 29 aircraft spanning the aviation industry (and history), and several hundred more are freely downloadable from the internet.
* X-Plane also has detailed failure-modeling, with 35 systems that can be failed manually, or randomly when you least expect it! You can fail instruments, engines, flight controls, and landing gear at any moment.
* X-Plane includes Plane-Maker which allows you to create your own airplanes, and World-Maker which lets you create your own scenery. Also included is Weather Briefer which produces a weather briefing based on actual weather conditions downloaded from the net.
* X-Plane is extremely customisable, allowing you to easily create textures, sounds, and instrument panels for your own airplanes that you design.
Download :
http://www.mediafire.com/?sharekey=8605780d4228a713d0d290dca69ceb5c06b90add4305ca925be6ba49b5870170
Google Tradutor:
Descrição
X-Plane é o simulador de vôo mais abrangente e poderosa disponível para o computador pessoal. X-Plane simula qualquer coisa que voa: a partir de um único motor de adereços de asa fixa multi-jatos do motor, planadores para dirigíveis, helicópteros a naves espaciais, incluindo como o V-22 Osprey e AV8-B Harrier.
X-Plane inclui cenário para os E.U. todo continental Você pode pousar em qualquer um dos milhares de aeroportos, bem como testar a sua perícia em porta-aviões, heliportos no cimo de edifícios, fragatas que pitch and roll "nas ondas, e plataformas petrolíferas. O tempo é variável de céu claro e de grande visibilidade para as tempestades de vento controlável, cisalhamento do vento, turbulência e poços. Chuva, neve e as nuvens estão disponíveis para um dos instrumentos de vôo desafio, e as térmicas estão disponíveis para os planadores! X-Plane pode fazer o download de dados tempo real da internet, o que lhe permite voar em condições reais de corrente!
Recursos
* X-Plane tem o modelo de vôo mais realista disponível para computadores pessoais. Ele vem com dinâmica de vôo subsônico e supersônico, simulando aeronaves da Bell 206 Jet Ranger helicóptero e avião ligeiro Cessna 172 para o supersônico SR-71 e Mach-3 XB-70 Valkyrie.
* X-Plane vem com 29 aeronaves que abrange o sector da aviação (e história), e várias centenas mais estão disponíveis gratuitamente a partir da Internet.
* X-Plane também possui falhas detalhado de modelagem, com 35 sistemas que podem ser falhou manualmente, ou aleatoriamente quando você menos espera! Você pode deixar instrumentos, motores, controles de vôo e de pouso em qualquer momento.
* X-Plane inclui Plane Maker, que permite que você crie seus próprios aviões, e World-Maker que permite criar seu próprio cenário. Também está incluído Weather Briefer que produz um briefing do tempo com base nas condições meteorológicas reais baixados da rede.
* X-Plane é extremamente personalizável, permitindo que você facilmente criar texturas, sons e painéis de instrumentos para seus próprios aviões que você projeta.
Informações Importantes;
são 75 arquivos para download
extrair com winrar
gravar o Iso, com Nero, Windows 7, Alcohol 120%, Daemon.
Para que o programa funcione full, obrigatoriamente colocar o DVD no driver.
Caso contrario funcionará como Demo